Batanes is composed of 10 islands: the main islands being Batan (North and South Batan – the capital, Basco is also located on Batan Island), Sabtang, and Itbayat. It is situated in the most northern part of the Philippines.
You can get here by airplane on Philippine Airlines (PAL Express),SkyJet, or Cebu Pacific. Airfare going here from Manila can be quite expensive costing as much as P10,000 one-way. If you're lucky, you can score tickets during seat sales and save some money.
Batanes is known to have temperamental weather and it does follow the four seasons. Mind you, summer can get extremely hot.
When you arrive, you will get the feeling that you are not in the Philippines, but rather another world with mountains and greener pastures (literally!). Many say it almost feels like your in New Zealand or a country similar.
Anyways,before you plan your itinerary, here are some reasons why you should experience a DIY Trip when you visit Batanes flying solo.
1. YOU CAN SAVE MORE
Tours can be quite expensive if you are a solo traveler.
Tricycle Tours:
North Batan – 1,000 Php
South Batan – 2,000 Php
Sabtang Island – 2,000 Php
Renting a motor bike or even a mountain bike can be more cost-effective.
Mountain Bike | Japanese Bike – P50 (1 USD)/ per hour or P400 (8 USD)/day
– Good condition bikes are available at Cielo's Shop
Tip: If you go with the mountain bike, I would suggest you take this on the South Batan route. There are long roads and less uphill slopes. If you want to take the bike to North Batan, be prepared for a lot of uphill climbs. Either way, it will definitely be a workout.
Motor Bike – P150 (3 USD)/per hour or P1,000 (20 USD)/per day
– Manual motor bikes can be rented at Cielo's or the Petron Gasoline Station in the town proper of Basco
– If you prefer automatic transmission like me, there are some available at Cielo's General Merchandise
(Note that you need a driver's license to rent a motor bike)
Tip: You can actually bring your motor bike on the boat when you tour another island such as Sabtang, but not a lot people do this option. During the boat ride (San Vicente Port – Town of Ivana).
I was the only tourist who brought a motorcycle.
Word of Caution: You need to be comfortable on a motor bike because the roads are actually rougher on Sabtang Island compared to Batan Island. Safety is always first. Although I didn't wear a helmet, it is definitely advisable to wear one. I was actually questioned by the tourism people when I was paying the P200 (4 USD) for the environmental fee. So, bring your helmets!
2. YOU HAVE YOUR OWN SCHEDULE AND TIME
Unlike scheduled tours, you'll be able to have your own pace and take your time. You can start and end your tour any time of the day. Just remember that it will start to get dark around 7pm, but some areas do have light posts.
This will also give you time to breathe and reflect because the views that you will see here are unbelievable.



3. YOU CAN STOP AND EXPLORES PLACES NOT ON YOUR USUAL ITINERARY
Since you are not taking a van or tricycle, you can fit and stop on the side of the road to take those shots that you want to take.
Whereever these shots may be, you won't see any tourists because these kinds of stops are not part of the tour itinerary.
I was able to make stops on the road and take some awesome pictures with no one around.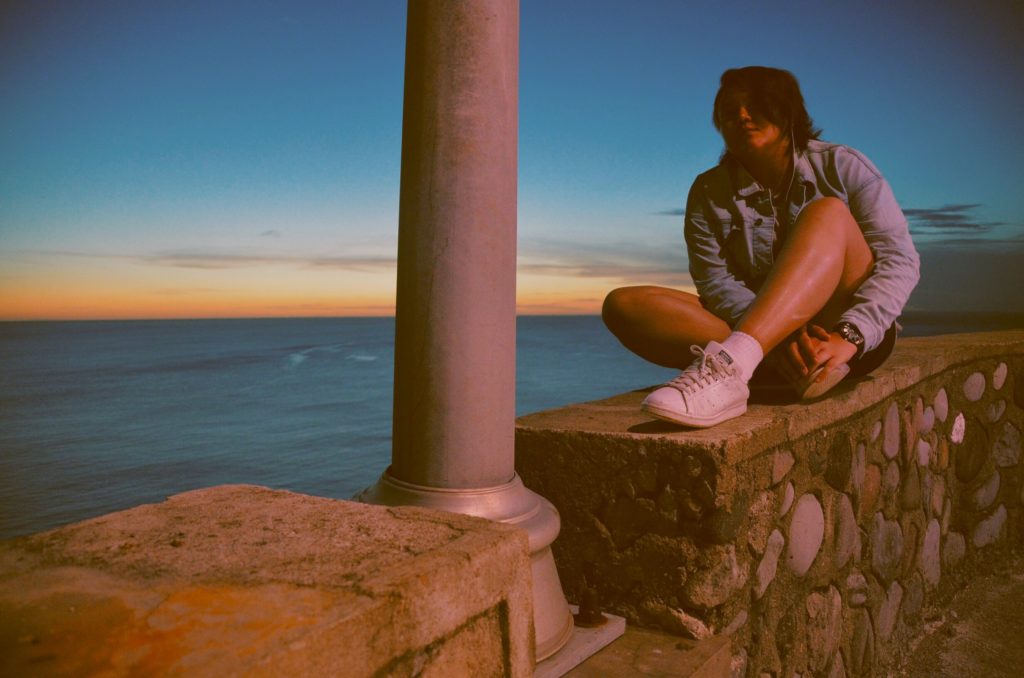 4. PEOPLE NOTICE
During my trip, I had a few conversations with fellow tourists and locals alike.
When I went to the tourist spots, people say that they saw me on the road (whether it be passing by a town or stopping to take pictures along the way). They thought that it was nice that I was doing a solo tour on a motor bike. Not to mention, my moped was red so it stood out lol.
5. YOU'LL HAVE A MORE MEMORABLE TRIP
Mark my words, you'll appreciate the trip more if you put more effort into it.
Yes, it can be tiring to ride a motor bike around the island, but the experience unexplainable. You'll be more aware of your surroundings and if you get lost, you'll be forced to talk to locals and ask for directions.
Batanes roads will take you on the side on the cliff and the view is spectacular. I was able to experience an incredible sunset on my way back to the town proper of Basco.
Being alone will give you a sense of independence here. There was a warm feeling every time another motorist would pass you by because they would greet you with a nod and a smile. The Ivatan (people of Batanes) are one of the friendliest I've seen.
No matter what choice you make, Batanes will be Batanes – one of the most beautiful places that you will every see. It was truly breathtaking.
Happy Travels from The Clever Trekker
——————————————————
Accommodations: Dive Batanes Lodge
Trip Duration: 4 days, 3 Nights
Date: June 2019