My Experience at Kichi Kichi Omurice and How I Made Reservations
If you're looking for a dinner and a show in Kyoto, Japan —- Kichi Kichi is definitely the place to visit.
My fascination for Japan (specifically the Kansai Region) started with a Buzzfeed video that I stumbled upon which featured Chef Motokichi Yukimura and his famous Omurice rice.
His mastery of perfecting the method of making his Iconic Omurice amazed me and I made it a point that when I go to Japan, I would be sure to visit his restaurant in Kyoto.
Here is my Kichi Kichi Experience:
Ensuring a Reservation
This dainty little restaurant has become so popular that it is sometimes difficult to get in to try his wonderful dishes. For starters, it can only accommodate 8-10 people at a time. His establishment has a bar seating set up and there is a small room in back of the restaurant which can occupy a few more extra people.
Kichi-Kichi does not offer walk-ins. If you don't live in Japan, you need to make a reservation through their website and pay close attention to the availability dates that they have.
They are not open all day:
Lunch: only during weekends from 12:00 pm – 2:00 pm
Dinner: 5:00pm – 9:00pm
Again pay close attention to their holiday schedule because it can change from time to time.
Now, lets do some math. Say, they can accommodate 10 people at a time (max stay is 1 hour), there will only be only around 40 people that can eat at his restaurant per day.
How did I get a reservation?
I definitely wanted to make a dinner reservation so I did some research and studied their reservation calendar. You need to have your set dates and book really early – 4 weeks in advance.
Kichi Kichi has a reservation system in place wherein they re-open reservations every Sunday at 3 pm (Japan Time). This allows reservations for the whole week from 4 weeks of the date of reservation.
You need to be sure what time you want to reserve and what date you would like.
Wait on the website and make a reservation 3pm (Japan Time) on the dot. Of course, there is reservation information that you need to fill out (and you need to be quick).
If you are a solo diner like me, the higher chances of you getting that reservation.
On the day that I had made the reservation, the slots for the whole week were full in less than 25 minutes. If this happens, you need to wait another week to make a reservation.
Also, be sure that you are not late. 15 minutes after your reservation and you're still not there, they will give out your seat to the waited listed individuals without reservations.
If you want to take chances and go without a reservation, they do have a line for walk-ins, however it is not guaranteed that you will be seated.
Getting to Kichi- Kichi from Osaka
Japan has one of the most accessible public transportation systems that I have ever seen. You can get anywhere with ease.
Also, Google Maps was my best friend. All you need to do is enter your current location and enter 'Kichi Kichi' as your destination.
It took about 1 hour to travel to Kyoto. I rode the Osaka Metro and transferred on the Kyoto Train Line called Hankyu Railway.
I got off at Kawaramachi Station (Exit 1-A), crossed the street towards Kiyamachi-dori Street (corner Shijo-dori Street). From there, it is about a 6 minute walk.
You'll find a red sign and a small little restaurant in an alley on the right side of the street.

Menu Items
Besides his Omurice, he also has other dishes that you can choose from. In comparison, the menu is a little bit more expensive than what you are typically used to, but it is definitely worth the experience.
The reason why they only allow limited reservations as well is because Chef Motokichi cooks everything himself.
Recommended Items:
Omurice Full Size (¥2,700 or 25 USD)
Omurice half size (¥1,450 or $13 USD)
Oxtongue Stew (¥3,250 or 30 USD)
Beef Stew (¥3,100 or 29 USD)
I would suggest to get the full size Omurice even if you are dining alone.
They also offer beverages such as beer, sake,wine, soda, and tea.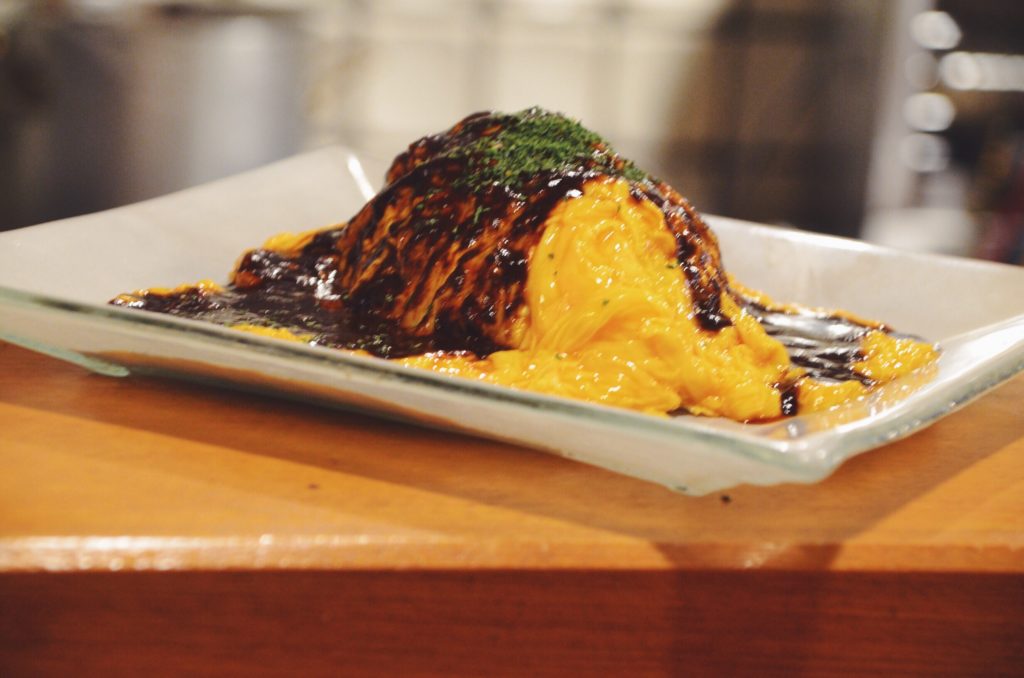 Dinner and a Show
Once you enter his small restaurant, you will be greeted by his staff who will assist you to your seat. They were very friendly. Chef Motokichi is one of the most camera-friendly chefs that you will meet. You will be greeted by a pleasant smile. His charm and charisma adds to the Kichi Kichi Experience. His energy level is through the roof.
Once you have ordered, he will start cooking the meal. He even explains what ingredients he is using.
It was like watching a cooking show.
He starts out with the fried rice, even doing a few tricks here and there. He really makes eye contact with you to check if you are enjoying his performance. Once he plates the rice, he moves on to the egg (tamago). No matter how many times I watched him, he never failed to amaze me with his culinary skills.
His execution was perfect every time. He places the egg on the fried rice, cuts it with a knife (the best part!), pours the demi glaze, and adds the garnish.
He hands you the plate and you can't help but stare at his masterpiece before you take a bite.
And it tastes as good as it looks.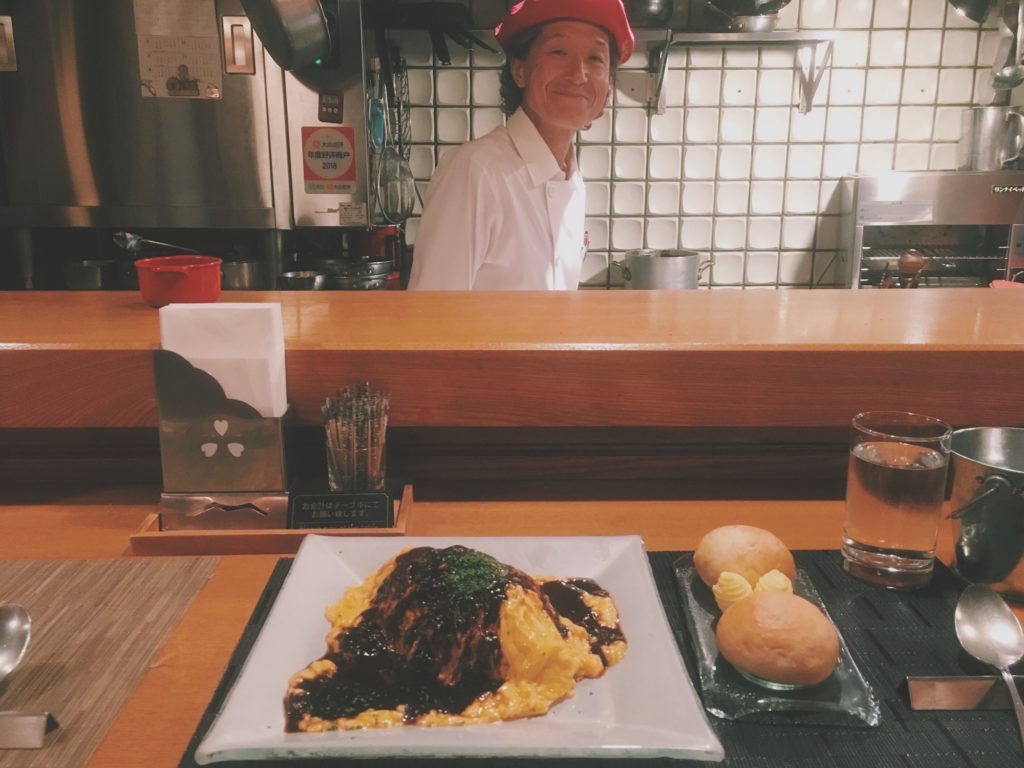 Photo Opportunity
Of course, you would want to document this experience and take a picture with him. You can request his staff that you would like to take a picture with Chef Motokichi.
He will happily step out of his kitchen and take a picture with you.
I thanked him for the meal and he even gave me a hug before I left.
Kichi Kichi is something that everyone should experience if they are traveling to Kyoto, Japan. It will add a little shot of happiness to your life,like it did mine.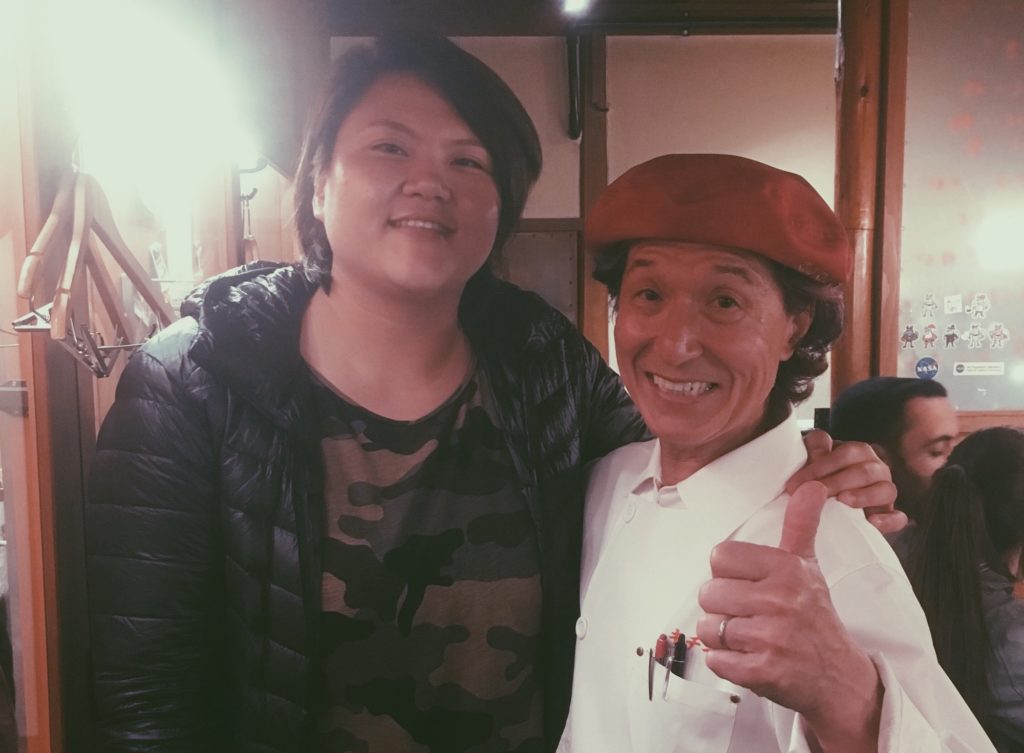 For the full experience, watch my Kichi Kichi Video Here
Happy Travels from The Clever Trekker.
—————————————–
Kichi Kichi Omurice Address: 185-4 Zaimokucho, Nakagyo Ward, Kyoto, 604-8017, Japan
Owner:  Chef Motokichi Yukimura
When I Visited: May 2019