Osaka is has so many attractions to offer, but the best one maybe Universal Studios Japan or often known as USJ. The park is a fairly large and busy park with attractions for all ages. But beware, this park is very popular amongst locals and tourists alike so it is advisable that you strategize your trip to Universal Studios Japan.
Once you get off at Universal-City Station (Osaka Loop Line Transit), you'll enter into a world that is filled with a lot familiar things that you usually see in the movies. At City Walk, you'll find a lot of restaurants and interesting novelty stores. As you walk further in you'll see the Universal Studios Japan entrance and the famous Universal rotating globe.
A few steps away is the entrance to the actual theme park.
Here are some tips, hacks, and strategies that I observed when I visited Universal Studios Japan
1. How to Purchase Your Tickets and When
It is very essential to for you to avoid crowds because crowds mean that it will be queuing and you won't have enough time. The park usually opens around 8:30am and 9:30 and closes around 7pm. If you enter the park once it's open, this will give you roughly 9-11 hours to roam around the park. Sometimes queues can take up to 2-3 hours per ride so that is definitely not enough time to ride all the attractions.
Go to the park when it is not peak season and book your tickets at Klook. This way you don't need to fall in line. All you need to do is use your mobile device and scan your voucher code and you'll be on your way.
Speaking of peak season, I discovered a method that can save you money and long lines at the park:
The Universal Studios Japan E-Ticket at Klook has 3 different packages:
Universal Studios Japan 1 Day Ticket – Ticket A $68 USD
Universal Studios Japan 1 Day Ticket – Ticket B $75.45 USD
Universal Studios Japan 1 Day Ticket – Ticket C 81.89 USD
Now, what you need to do is find a date that is applicable to Ticket A. You can play around with the calendar until you find the right date. I discovered that the Ticket A package is non-peak season meaning less queuing. Ticket B is semi-peak season and with Ticket C, you should expect a lot of people at USJ.
So I chose the Ticket A option and when I went to USJ on that date, there were hardly any lines and limited people so if gives you the opportunity to ride more attractions.
With this strategy, I even got to visit The Wizarding World of Harry Potter two times – once during the day and once during the night. On popular days, they have something called a "timed-entry" where you have a specific schedule on when you can visit or people also opt for the Express Pass, but that can add to the cost.
I also got to ride all the attractions that I wanted to ride.
2. Visit the Wizarding World of Harry Potter
Once you enter the enchanted forest, you'll be transported into the World of Harry Potter. This place is a must- see attraction because they only have one Wizarding World of Harry Potter in Asia. If they didn't have this in USJ, you would need to visit Universal Studios in Hollywood, California.
As you walk through the greenery, you'll see the Ron Weasley's famous light blue flying car that seems like it has crashed into a tree.
As you walk further, you'll enter Hogsmeade Village and you'll hear the familiar Harry Potter Themed Music
There you'll see the train headed for Hogwarts (Hogwarts Express), pop-up stalls of butter beer (must-try!), Olivanders Wand Shop with a show, or if you in for some treats, Zonko's is there to cater to your tastebuds.
Keep walking and you'll soon find yourself gazing at the Hogwarts Castle. You can even take a walking tour of the Castle, but you'll be able to see the inside the castle anyways if you fall in line for the ride 'Harry Potter and the Forbidden Journey.' You'll be immersed in an exciting adventure and it can give you a bit of motion sickness. Some of the scenes during the ride like the giant spider bit may make you want to close your eyes.
If you ever purchase a wand at Olivanders, there are sections in the Wizarding World where you can cast spells and it is an interactive experience. Although the wand may set you back around $50, you'll be able to choose wands from your favorite wizards.
3. It's Okay to Be Single
USJ has something called Single Rider Line, which is an alternative line where you can minimize the wait time. This is really suitable for solo travelers who don't mind who they sit with, but groups can also opt for this if they also don't mind not sitting next to each other.
There are seven attractions that offer Single Rider Lines:
JAWS
Space Fantasy – The Ride (or its XR coaster overlay)
The Amazing Adventures of Spider-Man – The Ride 4K3D
Hollywood Dream
Harry Potter and the Forbidden Journey
The Flying Dinosaur
Jurassic Park – The Ride
Basically, you are the filler of the seats that are available so the park attendant will usually choose where you sit.
I took advantage of this it allowed me bypass so many people waiting in line.
This is the best strategy if you are coming into the park during peak season.
For example, when the road the Jaws Ride, I was in line for no more than two minutes!
4. Eat Dinner at Three Broomsticks
There are many places to eat at USJ, but if you want dinner and a show, I would suggest Three Broomsticks. It is a inn and pub-themed restaurant in the Wizarding World of Harry Potter.
I ordered roasted chicken with potatoes and corn on the cob.
But I really came there for is to view the Magical Hogarts Castle. Just sit in the outdoor area of Three Broomsticks and you'll have a nice vantage point of the castle while you are eating dinner.
It's a spectacular lights show, but event times may vary, They usually start the show after sunset and play it until the park closes.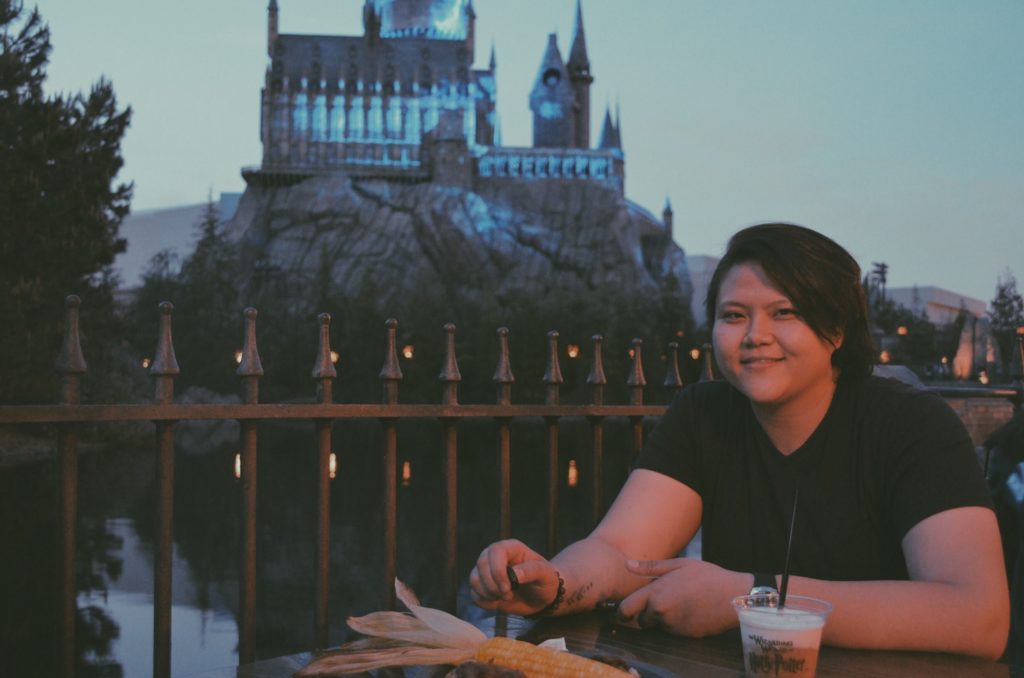 5. Ride the Flying Dinosaur at Jurassic Park
Do not ride this ride on a full stomach.
The Japanese sure do know how to engineer their rollercoasters because this ride was intense – probably the most intense ride in the park.
They actually ask you to empty your pockets and take off loose items. They hand out small containers so you won't lose them.
I'm not sure how skydiving feels like, but this was pretty close. Once you aboard the rollercoaster and everyone is safety strapped in, the seats are turned into a 90 degree angle towards the floor and you are facing straight down.
You'll feel the pressure and all your blood rushing towards your face and the ride hasn't even started yet.
Once you climb a high altitude, this the ride begins and it one hell of an experience – drops, revolutions, turns. Everything happens so fast and it will give you an adrenaline rush.
Honestly, I felt sick for a few seconds afterwards, but all you need to do is take a few deep breaths.
If you are a thrill-seeker, you'll enjoy this ride the most when you visit USJ.
6. Bring Plenty of Fluids
As you all know, some items can be overpriced when you visit theme parks. Refreshments are double the amount compared if you would buy them at your typical convenient store.
You'll be doing a lot of walking and you need to keep hydrated. I would suggest you bring water if you are bringing a backpack with you.
You can buy water at the park, but a lot of vending machines don't offer water bottles. I even made a mistake of purchasing a flavored drink with electrolytes that I mistook for water (wasn't that good so I didn't even finish it.)
7. Ride the Hollywood Dreams Ride
This ride is a little bit more chill compared to the flying dinosaur, though there are quite a few vertical drops.
The best thing about this ride is that they play music in the background whilst you are one the ride. You have five songs to choose from and it does feel like you're in a montage while you are riding the rollercoaster.
It was a unique experience and worth trying.
8. Take a Walk Around the Streets
USJ has some replicas of various places in the United States. As you walk you'll find yourself in New York, Los Angeles or even San Francisco. You'll even pass by Sesame Street.
It's was very realistic and the detail that they put into designing these places can be good enough to put in a film production or television.
Be sure you stroll around the park to see these structures.
9. Snoopy, Minions, and More
USJ is not only for adults, but there are many things that kids can do as well.
The kid-friendly Wonderland is a place where you can meet snoopy, hello kitty and characters from Sesame Street.
You can also visit Minion World or Spider-Man in New York City.
10. Watch the Parade at Night
When everything is said and done, every night at USJ is capped with a Night Parade, You'll see the featuring attractions that you saw around the parks like Harry Potter, Hollywood, Jurassic Park, Minions, Sesame Street and more.
The technology that was put into creating is parade is mind-blowing. You'll even see animation on the sides of building and structures- something that you would not expect at all.
The parade is a huge selling point at USJ and the guests are entertained to the fullest so you'll need to check this out.
Well, those are some tips and tricks that I was able to learn when I visited Universal Studios Japan and I'm hoping you can visit too.
Happy Travels from The Clever Trekker.